Discover more from Just Emil Kirkegaard Things
No filter science
Over 5,000 subscribers
Criticism of BMI and simple IQ tests - a conceptual link?
BMI (body mass index) is often used a proxy for fat percent or similar measures. This is for a good reason: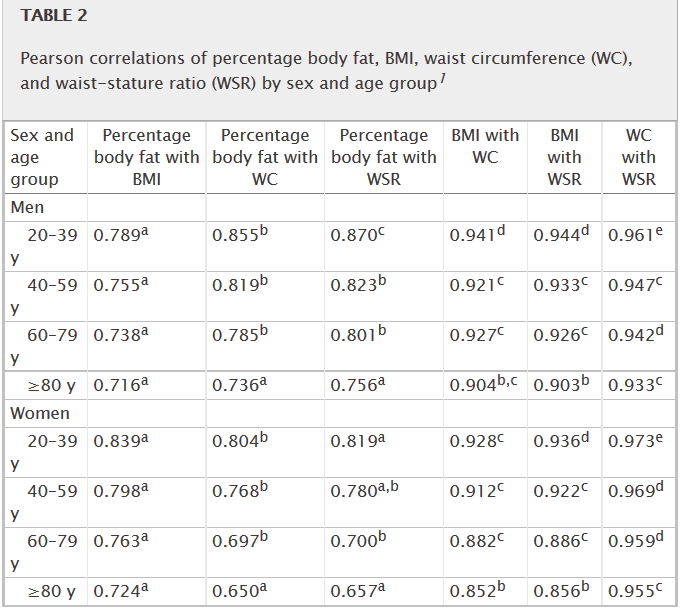 So, the mean correlation across age groups and gender is very high, around .77 (unweighted mean across genders). There is a clear age gradient such that the correlation being higher at younger ages, which is opposite of what the body builder-confound would predict (few >80's are body builders). But it does work slightly better for women (.78 vs. .75), perhaps because there are more male body builders. BMI has a proven track record of predictive power of many health conditions, yet it still receives lots of criticism due to the fact that it gives misleading results for some groups, notably body builders. There is a conceptual link here with the criticism of simple IQ tests, such as Raven's which 'only measure ability to spot figures'. Nonverbal matrix tests such as Raven's or Cattell's do indeed not measure g as well as more diverse batteries do (Johnson et al). These visual tests could be similarly criticized for not working well on those with bad eyesight. However, they are still useful for a broad sample of the population. Criticisms like this strike me as an incarnation of the perfect solution/Nirvana fallacy:
The perfect solution fallacy (aka the nirvana fallacy) is a fallacy of assumption: if an action is not a perfect solution to a problem, it is not worth taking. Stated baldly, the assumption is obviously false. The fallacy is usually stated more subtly, however. For example, arguers against specific vaccines, such as the flu vaccine, or vaccines in general often emphasize the imperfect nature of vaccines as a good reason for not getting vaccinated: vaccines aren't 100% effective or 100% safe. Vaccines are safe and effective; however, they are not 100% safe and effective. It is true that getting vaccinated is not a 100% guarantee against a disease, but it is not valid to infer from that fact that nobody should get vaccinated until every vaccine everywhere prevents anybody anywhere from getting any disease the vaccines are designed to protect us from without harming anyone anywhere.
Any measure that has more than 0 validity can be useful in the right circumstances. If a measure has some validity and is easy to administer (BMI or non-verbal pen and paper group tests), they can be very useful even if they have less validity than better measures (fat% test or full battery IQ tests). Anyway, BMI should probably/perhaps retired now because we have found a more effective measure (Ashwell et al):
Our aim was to differentiate the screening potential of waist-to-height ratio (WHtR) and waist circumference (WC) for adult cardiometabolic risk in people of different nationalities and to compare both with body mass index (BMI). We undertook a systematic review and meta-analysis of studies that used receiver operating characteristics (ROC) curves for assessing the discriminatory power of anthropometric indices in distinguishing adults with hypertension, type-2 diabetes, dyslipidaemia, metabolic syndrome and general cardiovascular outcomes (CVD). Thirty one papers met the inclusion criteria. Using data on all outcomes, averaged within study group, WHtR had significantly greater discriminatory power compared with BMI. Compared with BMI, WC improved discrimination of adverse outcomes by 3% (P < 0.05) and WHtR improved discrimination by 4–5% over BMI (P < 0.01). Most importantly, statistical analysis of the within-study difference in AUC showed WHtR to be significantly better than WC for diabetes, hypertension, CVD and all outcomes (P < 0.005) in men and women. For the first time, robust statistical evidence from studies involving more than 300 000 adults in several ethnic groups, shows the superiority of WHtR over WC and BMI for detecting cardiometabolic risk factors in both sexes. Waist-to-height ratio should therefore be considered as a screening tool. (Ashwell et al, 2012)
It may even be that some of these measures are better predictors than body fat%. I didn't find such a study.
References
Ashwell, M., Gunn, P., & Gibson, S. (2012). Waist‐to‐height ratio is a better screening tool than waist circumference and BMI for adult cardiometabolic risk factors: systematic review and meta‐analysis. obesity reviews, 13(3), 275-286.
Johnson, W., Nijenhuis, J. T., & Bouchard Jr, T. J. (2008). Still just 1 g: Consistent results from five test batteries. Intelligence, 36(1), 81-95.