Discover more from Just Emil Kirkegaard Things
No filter science
Over 5,000 subscribers
Medium censors Coronavirus post
I hate censorship, so here I provide backups. Note that Twitter censors linking to the archive.ph archived version, giving users a false error message.
https://twitter.com/KirkegaardEmil/status/1241734643948359680
Twitter apparently auto-throttles tweets that link to these archives. Cannot even embed it in Wordpress, and no reactions to it, so probably not shown to followers.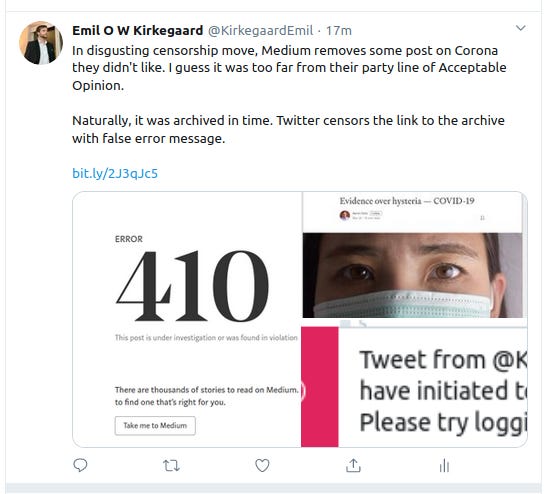 Original: https://medium.com/six-four-six-nine/evidence-over-hysteria-covid-19-1b767def5894

Archive.ph version: https://archive.ph/yuaUq

Others: https://archive.ph/https://medium.com/six-four-six-nine/evidence-over-hysteria-covid-19-1b767def5894

Or use any URL shortener to avoid the Twitter blockade, e.g. bit.ly/2J3qJc5

https://archive.li/yuaUq

https://web.archive.org/web/*/https://medium.com/six-four-six-nine/evidence-over-hysteria-covid-19-1b767def5894

Seems that IA didn't save the figures properly

https://www.zerohedge.com/health/covid-19-evidence-over-hysteria

Reposted it, looks identical to me

I had the tab open from yesterday, and was able to convert to a PDF (Medium makes this difficult)

Firefox built in fullpage screenshot works well, but this page was too long for it to handle, cut off before the end

I had to try at least 3 different extensions for Firefox. Ended up with https://addons.mozilla.org/en-US/firefox/addon/pdf-mage/ which works but isn't that pretty